Live Report: Trans-Atlantic Summit on Iran Policy
Time To Hold the Iranian Regime Accountable
Written by
Hamideh Taati
Time To Hold the Iranian Regime Accountable
The Iranian opposition holds an online conference, urging the international community to hold the Iranian regime to account for its ongoing human rights violations and confront its export of terrorism by re-imposing all sanctions on the mullahs' regime. This event is held on the eve of the annual session of the United Nations General Assembly. Bipartisan U.S. lawmakers from both chambers and former senior officials from both sides of the Atlantic will join Iranians from 10,000 locations worldwide. The keynote speaker of this event is Mrs. Maryam Rajavi, the President-elect of the National Council of Resistance of Iran (NCRI).
This conference and its panelists will discuss the Iranian regime's repressive measures at home and its threats to the Middle East and the rest of the world and set forth the proper policy to effectively challenge Tehran's aggressive behavior.
The online event is hosted by award-winning journalist Trish Regan.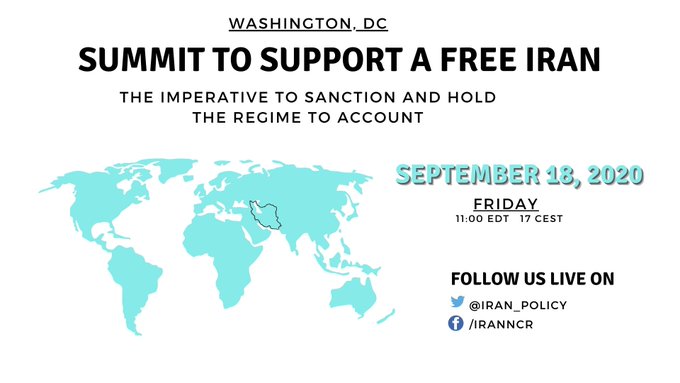 THIS PAGE PRESENTS A LIVE REPORT OF THIS EVENT. ITS CONTENT WILL BE UPDATED THROUGHOUT THE DAY
: