Defiant Youth Target the Center of Plunder Under the Guise of Khamenei's Relief Committee in Borujerd
Written by
Secretariat of the National Council of Resistance of Iran (NCRI)
Dehloran – Destroying the poor people's homes by the repressive municipal and State Security Forces – December 17, 2020
Targeting Basij base in Shahriar and Khamenei's large banner in
On Thursday, December 17, in response to the destruction of homes of the deprived and destitute people in Dehloran and Tabriz, defiant youths targeted mullahs' center of plunder, known as the "Imam's Relief Committee" in Boroujerd, and set fire to its entrance.
At the same time, defiant youths set fire to the entrance of the Revolutionary Guards' Basij base in Shahriar. Defiant youths also torched Khamenei's large banner in Dorud.
Targeting the symbols of mullahs' repression and plunder was welcomed by the people of the region.
Secretariat of the National Council of Resistance of Iran (NCRI)
December 20, 2020
Borujerd – Imam Relief Committee, center for plunder and repression, also a base for the repressive IRGC forces – December 17, 2020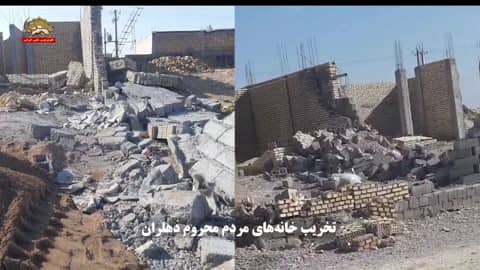 Dehloran – Destroying the poor people's homes by the repressive municipal and State Security Forces – December 17, 2020
Shahriar – Torching the repressive Basij base – December 27, 2020
Dorud – Torching Khamenei's banner – December 17, 2020
Defiant Youth Target the Center of Plunder Under the Guise of Khamenei's Relief Committee in Borujerd